This is the first pack from Electro House series which becames very popular these days and VIPZONE is planning to follow this trend as well.
If you make electro or electro-house or if you plan to produce this kind of music, you will be amazed by the quality of these drum loops, that you may hear only with the best productions of this genre. You will see! The kick is deep and punchy and the hihats are sweet and modern sounding.
Every loop is stored in 5 versions, kick, full, no kick, hihat and perc, fx
which gives you total control and almost infinite possibilities for chaining the content of different loops...and we've almost forgot to say: this pack comes at quite nice price!
Sample Pack Content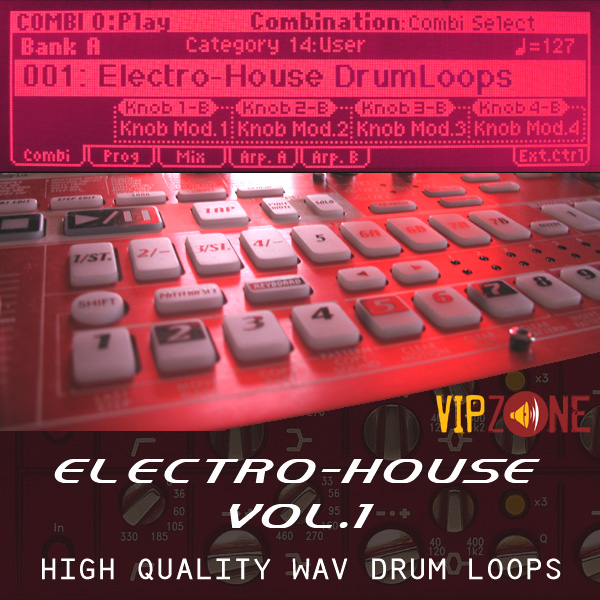 50 different drum loops (127 BPM) in 5 versions each

Total 250 WAV files in extreme high-quality
The Electro House Drumloops is our first endeavor in this particular line of drum loops for those aspiring producers and DJs who love coining artful and master music in the electro or house music genres. We intend to set a fresh new trend with this latest collection of an amazing high quality drum loops as you would not have seen any where else on the internet. Check out this samples collection we have put together after endless brainstorming sessions to provide you with a chance to be in line with a highly in demand kind of music today. The drum loops in this pack are only seen in the most versatile and best productions created in the house and electro genres.
Kicks, Hihats, Perc, Drum Loops for Electro and Electro-House Productions
Download the demo now and verify for yourself the great kicks that are so deep and punchy you will be exhilarated at first hearing. The hihats we have created for your benefit are all ultra cool, sweet and the most modernistic touch you can ever hope for. This pack has drum loops stored in five different versions including full, kick, no kick, FX and hihat and perc. Unbelievable, yes but this is a realistic sample pack giving you the freedom of absolute control for coming up with infinite possibilities. The chaining possibilities with the different drum loops in this pack are endless and it is sheer pleasure from start to end for those lucky users who get hold of this amazing drum loops pack we have created. Take a look at what this neat little package houses.
Pack contents:
50 varieties of drum loops recorded in 5 different versions
250 top notch wav files
Format
WAV files
Tempo
127 BPM
The electro house drumloops is the sample pack that will set a new trend in redefining the electro and house music and for this alone it is worth listening to the amazing sample pack. Get the power in to your hand with this pack and control the next generation of house and electro music. Become a pioneer with a groundbreaking drum loops collection as never seen before.