This pack contains ready, looped melodies in WAV format for genres like dance and trance. Each track is recorded in three different tempos (138,140,143 BPM), so you don't have to time stretch it anymore. All tracks are high quality - 44.000 Hz 16 BIT and you can easily mix it with beat and bass to get the perfect club dance song.
These melody wav loops are prepared from top sounds and leads.
Pack also contains midis to each melody (65 basic + 35 bonus midi), so you can get your own dance melody by changing it a little bit. It is allowed because all loops and midis are ROYALTY-FREE so you don't have to buy additional licenses.
You can also easily learn how to make nice dance midi hooks by analyzing included files, but also from these melodies you can prepare almost 6 full albums of great club dance trax!
Become the greatest club producer and don't waste your precious time on preparing cool tunes...YOU' VE GOT IT ALL HERE...!
Sample Pack Content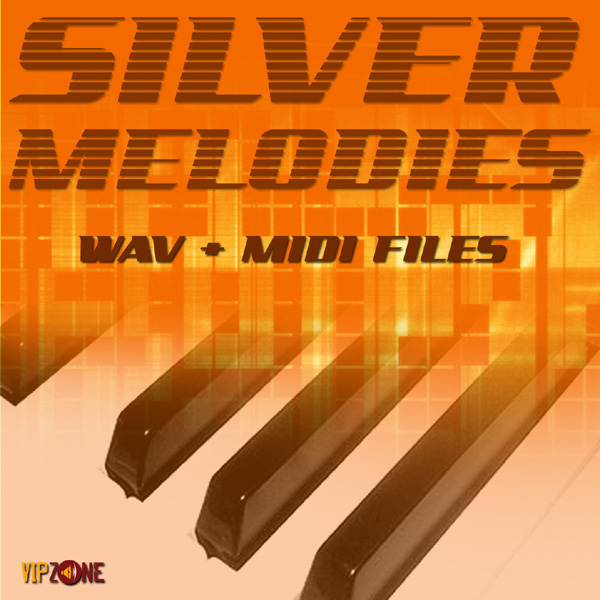 65 Club Melodies Loops in WAV Format (DJ Silver)

100 Dance Midi Files
Silver melodies are the silver lining in your trance and dance music creations that will give you an ethereal aspect for raving and successful parties. A truly mesmerizing product of trance and dance midi files and loops samples, we bring you a collection that will set you in absolute wonder due to the sheer variety in it. If you have been looking for a magnificent midi and sample pack with leads, hooks and harmonized melodies in the hope of giving your audience something new, here is your chance. Find out what bounties are there for you in this silver lined Silver Melodies midi and loops pack from the house of VIPZONE.
Genre
Dance, Trance
Samples categories
Club Melodies
Melodic Phrases
Pack contents
Midi files – exceeding 100 nos.
DJ Silver Club Dance Melodies - 65 nos. (all in Wav format)
Bonus Midi files – 35 nos.
Tempos 138,140 & 143 BPM
Format
Midi + Wav Loops
Trance and Dance Midi Files with great Melodies for your productions
The creation of DJ Silver, the midi and sample pack contains 'one of a kind' trance and dance melodies with a perfect synchronization of hooks and leads to give you a totally exhilarating experience in music making. All the hooks and hooklines in this dance melodies pack are sorted in high quality Wav format with 100 midi files to quench your production thirst.
We have successfully overcome the issue of stretching, a big headache faced by many producers by integrating the tracks in varying levels of tempos ranging from 138, 140 to 143 BPM. The sounds of this sample pack is out of this world backed by high quality leads and an assortment of beautiful melodies coined by DJ Silver. The combined effect is pure magic and guaranteed to be your ticket in signing a trance and dance music record label in next to no time. This perfect and flawless sample pack will make sure that you reach the pinnacle of commercial success and get over all the monotonous routines in music making.
If you cherish the aura of special impacts from your dance and trance music creations don't delay download our demo today, or go for instant download of the entire sample pack with great trance and dance midi files including looped melodies in wav format and get rollicking with our unique Silver Melodies.